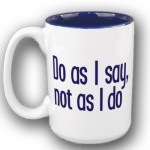 Do as I say, not as I do. That is the modus operandi of President Obama. He whines to everyone that he despises these Congressional deadlines, and that it is patently unfair of the Republican to let things slide to the last minute. However, that is precisely what he wants. In the time between one deadline to another, Obama himself never presents a plan for anything. It's disingenuous.
Obama complains that decisions should be discussed and negotiated and worked out, and points a finger at a "do nothing Congress", but in fact, he wants everything to be done at the last minute. We know this to be true by his leadership, or lack thereof. There is no dealing with cuts or budget items in between crises, unless it is an executive order circumventing the normal process. He continuously talks and talks and talks about how he is "willing to discuss" but then brings nothing to the table as a starting point for discussion.
Classic Obama — full of hot air, no substance; plenty of blame, but no true action. And no, ruling by Executive fiat to avoid being to "no" in Congress is not leadership. The fact that Obama facilitates no discussions or presents no working actionable items in between various deadlines proves that he is not about leading by example. The last-minute scrambling is his backdrop for grandstanding. It's about perpetuating crises as leverage for outrageous policies that the majority of Americans do not want.