Signaling a slow down in the global economy is affecting U.S. manufacturers, June numbers showed production was down.
The trade group of purchasing managers said its index of manufacturing activity fell to 49.7. That's down from 53.5 in May. And it's the lowest reading since July 2009, a month after the Great Recession officially ended. Readings below 50 indicate contraction.
Though growth rates are already sluggish — 1.9% in January-March — the latest manufacturing numbers indicate growth is closer now to a mere annual rate of 1.5%.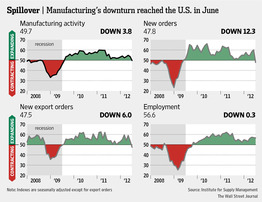 This is not good economic news, which could worsen depending on the unemployment figures due out this week.