From Investor's Business Daily:
The economy created just 80,000 jobs in June, the Bureau of Labor Statistics reported Friday. But that same month, 85,000 workers left the workforce entirely to enroll in the Social Security Disability Insurance program, according to the Social Security Administration.
and more:
In addition, while job growth has been very weak during the recovery, the total number of people who've dropped out of the labor force entirely has exploded, climbing 7.3 million since June 2009, and IBD analysis of BLS data show. Some of them aged into retirement, but most either signed up for disability, stayed in school, moved back in with parents, or just quit looking for a job.
But, don't forget, Obama predicted 5.6% unemployment by this time with the stimulus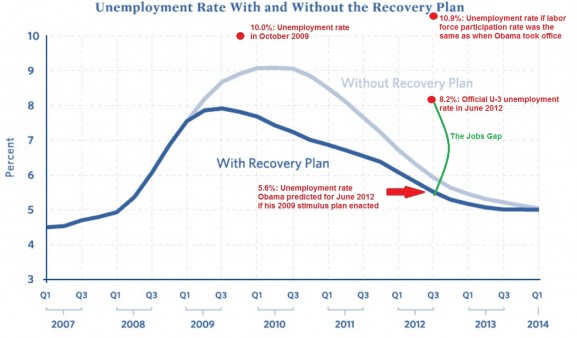 There's not much else to say here….add your commentary below!